Book Club – Insiders selections
Link to sign-up form at the bottom of this page.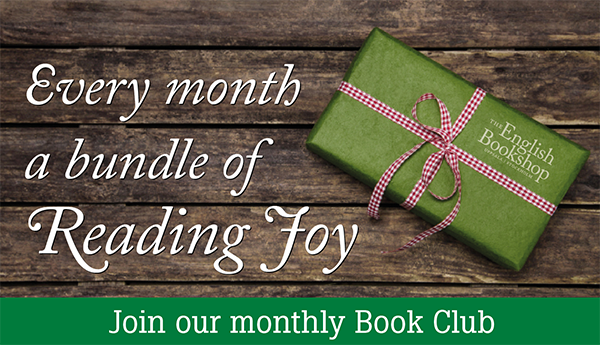 Join our subscription Book Club – Every month a bundle of Reading Joy
Join our subscription Book Club and get a new book in the mail every month. It's like Christmas all year round! All picks are made personally by us in the bookshop. Choose your favourite category (or categories) and we'll send you a new wonderful surprise each month.
Handpicked titles every month • Fixed monthly fee
Free delivery • No long-term commitment
Wonderful surprises
The perfect gift for someone special!
»It's the one and only book club you'll ever need! I've been
a member for years, and not once have I been disappointed«
– just another happy book club member
---
Book Club FAQ
How do I pay?
You pre-pay via Swish or bank giro (or card payment), and you pay for 3 months at a time (discount if you subscribe for more than 3 months!). Monthly fee is fixed and delivery is free. All categories are 165:-/month. Payment instructions on the sign-up form on the link below.
What if I want to leave the club?
No worries; you can unsubscribe at any time and you're ­always welcome back later.
Can I give a subscription as a gift to someone?
Sure you can (and what a nice giver you are!). You can gift an on-going subscription, or time-limit it to 3 months, 6 months, or an entire year.
What if I've already read the book?
You are a frequent reader! Did you like the book? Perhaps it would make a great gift for someone else. You can exchange it at one of our bookshops or just send it back to us unread (return postage is on you though). Please contact us at bookclub@bookshop.se first so we can help you out. The risk that you've already read the book is rather slim though…
This sounds dangerous, like a literary Russian roulette!
No need to worry, there's no risk of bloodshed. The risk of discovering new favourite authors is higher though… We like to call it – literary serendipity!
But I live nearby, there's no need to send me the books…
Howdy neighbour! We'll hold the books for you at the bookshop and let you know when they're ready to be picked up. (Oh, and if you pick up locally you can switch category on-the-fly at the shop).
I don't even live in Sweden!
No need to worry, we'll send you the book anywhere in the Nordic countries and rest of Europe for a slightly higher monthly fee, +SEK 50:-/book. Pre-paid quarterly as usual.
Enough talk already, how do I sign up?
Fill in the form on the link below, email the bookclub or talk to us in any of the shops. Any questions? Email us at bookclub@bookshop.se

---
Pick your book club category(-ies)
Modern Fiction: a new, hand-picked novel by an English language writer. Something you haven't heard of but probably will...
Classics are classics for a reason. (Re)discover the treasures of English classics. We will most often read the non-standard classics.
Feel-Good – often romantic, sometimes funny, always comforting and mood lifting.
Mystery picks are crime and mystery novels, mostly British, often historical, never gory.
Noir brings you the tougher and darker literary crime novels.
The Fantasy and Sci-Fi categories are where wou will find new voices in alternate world writing.
Teen/Young Adult for the young(er) reader. Young in years, or young of heart.
Non-Fiction (History/Biographies) is the category for the investigative and curious mind.
Queer interest – a mix between fiction and non-fiction titles. Spanning from modern novels and queer classics, to biographies and current affairs with a queer perspective.
All book club categories are 165:-/month.
And delivery is free.
---
Subscription prices (per category)
Quarter (3 months) 495:- (=165:-/month and category)
Half-year (6 months) 940:- (Save 50:-)
Full-year (12 months) 1.815:- (Save 165:-, i.e. one month free!)
The subscription prices are adjusted from May 2023 due to changed book prices from the publishers, increased freight costs, and changed currency exchange rates. This is our first price change in over 4 years – and it's still a great deal!
---
Gift a subscription to that someone special
Fill in the subscription form below with your name and contact details, and put the recipient's name, address and contact details in the comment field. Download, print and fill out this gift card to give to the recipient (one-page print-out to fold):
» Download gift card (pdf, opens in new window)
---